Not every business will be successful with branded content. The chart below can help you decide whether a branded podcast is the right move to reach your marketing goals. To find out, answer the following nine questions honestly, with a simple 'Yes,' 'Maybe,' or 'No.'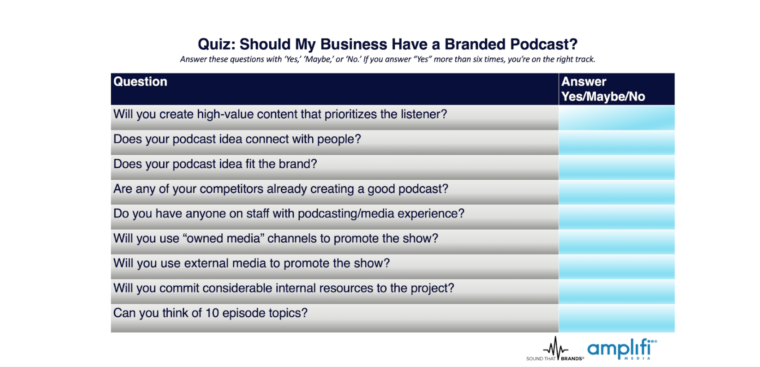 Now add up how many times you answered, 'Yes,' how many times you answered 'Maybe,' and 'No.' If you have more than 6 'Yes' answers, you're on the right track.
Don't Just Check the Box
Today's "new new" thing is podcasts. Seemingly every day, a new podcast production company, some with little or no track record, emerges, aggressively pitching businesses about the need to use branded podcasts to connect with people. Companies are jumping on the branded podcast bandwagon, only to be disappointed later either because the content missed the mark or it was difficult to land an audience.
Success in this space has been elusive for most brands despite the potential. It helps to have experience in your corner. We've honed our approach with decades of experience helping media brands in broadcast and satellite radio, local and national TV, podcasting, and digital audio. Our team of audio content veterans has the expertise and insight to translate your brand's values into a podcast that informs, entertains, and engages. We also can advise and execute an effective podcast marketing strategy. We know which levers to pull to make sure your content is heard.  
Let's talk about whether a branded podcast may be right for your company or your client.
A branded podcast won't work for everyone – but it is the perfect storytelling medium for some brands.
We will tell you the truth.